Tarot Art Nouveau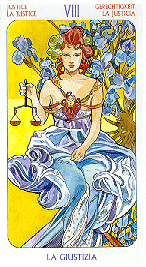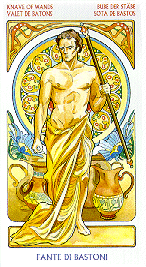 In the Tarot Art Nouveau deck, artist Antonella Castelli explores traditional tarot themes using the sensuous, expressive Art Nouveau style. The beautiful men and women on these cards live in a lush world of color and grace. Each card shows one or two figures posed either partially nude or draped in flowing gowns. Most of the minor arcana numbered cards show women, but men are represented in the court cards and majors. The appropriate number of suit symbols are shown in a rectangular box to the right rather than being incorporated into the scene. At the top of each card is its number and name in four languages with Italian at the bottom. Aces are numbered one. There is also a miniature version of this deck. The Art Nouveau Tarot is another deck in this style.


Language of Card Titles: Italian, English, French, German, Spanish

Style of Suit Cards (2-10): posed figures in scenes

Also Included: instruction sheet (13 pages), title card, publisher card

Major Arcana:
Fool, Magician, High Priestess, Empress, Emperor, Hierophant,
Lover, Chariot, Strength, Hermit, Wheel, Justice,
Hanged Man, Death, Temperance, Devil, Tower
Stars, Moon, Sun, Judgement, World

Suit Names: Wands, Chalices (Cups), Swords, Pentacles

Court Cards: King, Queen, Knight, Knave (Page)

Links to Other Sites:
Review - Tarot Passages website
Review 1 - Wicce website
Review 2 - Wicce website


SAMPLE CARD IMAGES: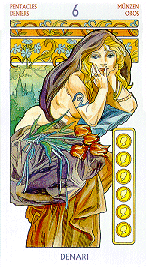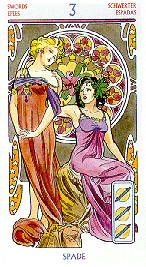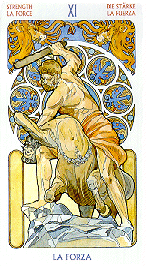 Reference - Article about Art Nouveau Style by Paul Greenhalgh in Magazine Antiques.
---