Tarot Classic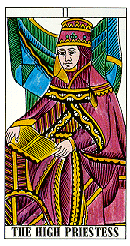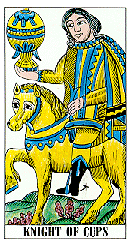 The Tarot Classic deck follows the Tarot of Marseilles style. It is based on a woodblock tarot deck created by cardmaker Claude Burdel in 1751, probably in the city of Freibourg, Switzerland. This original deck was stencil colored by hand. A banner on the two of Coins reads "FABRIQUE DE CARTES A SCHAFFHOUSE" meaning "Card factory in Schaffhouse." The initial M on the four of Coins stands for Muller - AGMuller is the Swiss publisher. Italian tarot deck publisher Lo Scarabeo also offers a Tarot of Marseilles deck based on the same Burdel original. There is a separate companion book for this deck called Tarot Classic.

Deck

Number of
Cards
Size
Copyright
Card Back Design
78

22 major
56 minor

2 3/8"
x
4 3/8"
1974

Order - Amazon
Companion Book

Title
Author
Size
Number of
Pages
Copyright
Cover
Tarot
Classic
Stuart R.
Kaplan
5 1/4"
x
8"
240
1972

Order - Amazon
Language of Card Titles: English
Style of Suit Cards (2-10): suit symbols
Also Included: instruction booklet
Major Arcana:
Fool, Magician, High Priestess, Empress, Emperor, Hierophant,
Lovers, Chariot, Strength (Card 11), Hermit, Wheel of Fortune,
Justice (Card 8), Hanged Man, Death, Temperance, Devil, Tower,
Star, Moon, Sun, Judgment, World
Suit Names: Wands, Cups, Swords, Pentacles
Court Cards: King, Queen, Knight, Page
Links to Other Sites:
Review - Wicce website
SAMPLE CARD IMAGES: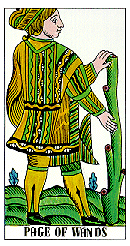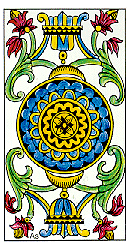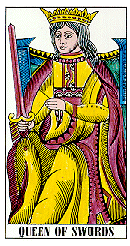 Reference - The Encyclopedia of Tarot: Volume 2 and Volume 3 by Stuart Kaplan, pgs. 342, 344.
---