Tarot of the Cat People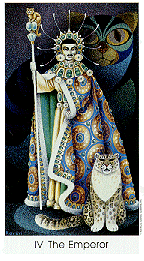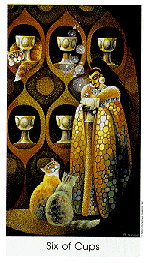 Karen Kuykendall, the artist of the Tarot of the Cat People, is called "the Cat Lady" by people who know her. The cats on almost every card of the deck were modeled on the ten cats that keep Kuykendall company while she works. The original art was painted in acrylic on board, using a "splatter" technique whereby Kuykendall masked areas and painted around them using a toothbrush. The effect is subtle, almost pointillistic gradations of color. The deck is set in the fantasy world of the Outer Regions, where the Cat People live. The five kingdoms of the Outer Regions correspond to the Major Arcana and the four suits of the Minor Arcana. There is a separate companion book for this deck called The Ancestral Path Tarot. The book is written from the point of view of an explorer to these Outer Regions.



Deck

Number of
Cards
Size
Copyright
Card Back Design
78

22 major
56 minor

2 5/8"
x
4 5/8"
1985
Companion Book

Title
Author
Size
Number of
Pages
Copyright
Cover
Tarot of the
Cat People:
A Traveler's
Report
Karen
Kuykendall
4 5/8"
x
7"
192
1991

Order - Amazon
Lanuage of Card Titles: English
Style of Suit Cards (2-10): cats and figures
Also Included: instruction booklet, 2 blank cards
Major Arcana:
Fool, Magician, High Priestess, Empress, Emperor, High Priest,
Lovers, Chariot, Strength, Hermit, Wheel of Fortune,
Justice, Hanged Man, Death, Temperance, Devil, Tower,
Star, Moon, Sun, Rejuvenation, World
Suit Names: Wands, Cups, Swords, Pentacles
Court Cards: King, Queen, Knight, Page
Links to Other Sites:
Review - Wicce website
SAMPLE CARD IMAGES: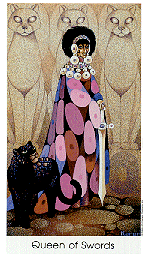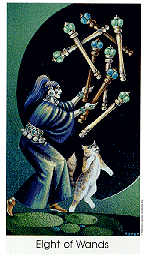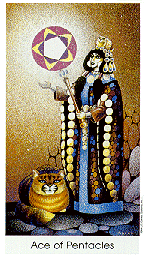 Reference - The Encyclopedia of Tarot: Volume 3 by Stuart Kaplan, pg 572.
---