Egyptian Tarot (U. S. Games)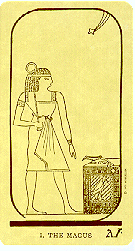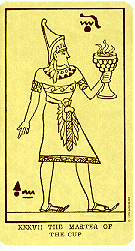 The Egyptian Tarot is based on illustrations from Comte C. de Saint-Germain's book Practical Astrology, published in 1901. Titles have been added to each card which were only included in the text of the book. The instruction booklet also contains Saint-Germain's original card descriptions. The Egyptian Tarot has brown line drawings on a specially-aged paper to create a papyrus effect. The major arcana, suit and court card names all reflect Egyptian mythology and culture. The Fool has been renumbered as Card 22 - the Crocodile. Unlike many other tarot decks, each card in the minor arcana has a number assigned to it from 23-78. The back design shows the famous funeral mask of King Tutankhamen.

Number of Cards
Size
Copyright
Card Back Design
78
22 major/56 minor
2 3/8" x 4 3/4"
1980

Order - Amazon
Language of Card Titles: English
Style of Suit Cards (2-10): suit tokens
Also Included: instruction booklet
Major Arcana:
Magus (1), Gate of the Sanctuary (2), Iris-Urania (3), Cubic Stone (4),
Master of the Arcanes (5), Two Ways (6), Chariot of Osiris (7), Balance and the Sword(8),
Veiled Lamp (9), Sphinx (10), Tamed Lion (11), Sacrifice (12), Reaping Skeleton (13),
Two Urns (14), Typhon (15), Thunderstruck Tower (16), Star of the Magi (17),
Twilight (18), Dazzling Light (19), Rising of the Dead (20), Crown of the Magi (21), Crocodile (22)
Suit Names: Scepter (Wands), Cups, Swords, Pentacles
Court Cards: Master (King), Mistress (Queen), Warrior (Knight), Slave (Page)
Links to Other Sites:
Review - Wicce website
Review - Taetia Zysshe website
SAMPLE CARD IMAGES: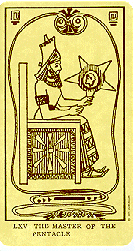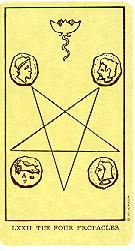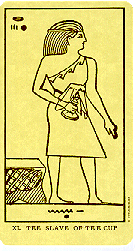 Reference - The Encyclopedia of Tarot: Volume 3 by Stuart Kaplan, pp. 587-588..
---