Tarot of the Imagination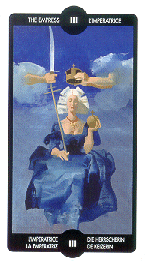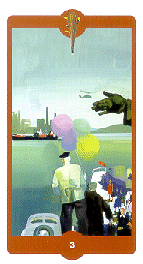 In the Tarot of the Imagination, Ferenc Pinter creates a surreal dream landscape combining the familiar with the bizarre. His images are fragments of perception designed to stimulate thoughts and ideas in the subconsious mind. Some cards follow traditional tarot symbols, others reflect Pinter's unique vision. The pictures draw on different time periods in European history, in particular the first half of the 20th century. This deck was originally published as a majors-only deck, but this version also includes the 56 minor arcana cards. The majors show the card's number and name in six languages. The minor cards focus almost entirely on the card's image. No names are given, just the number at the bottom, and suit symbol at the top. Suit cards are color-coded with green for cups, blue for swords, yellow for pentacles and reddish-brown for wands.* The court cards are archetypal figures, either symbolic or real. For example, the King of Cups appears to be Henry VIII. Court cards are identified by a symbol at the bottom instead of a number. This deck is published by Lo Scarabeo of Italy and distributed by Llewellyn in the US.

Number of Cards
Size
Copyright
Card Back Design
78
22 major/56 minor
2 5/8" x 4 3/4"
2000

Order - Amazon
Language of Card Titles: Italian, English, French, Spanish, German, Dutch (majors only)
Style of Suit Cards (2-10): picture scenes
Also Included: instruction booklet (14 pages), title card, publisher card
Major Arcana:
Fool, Magician, High Priestess, Emperor, Empress, Hierophant, Lovers
Chariot, Strength (card 11), Hermit, Wheel, Justice (card 8), Hanged Man,
Death, Temperance, Devil, Tower, Stars, Moon, Sun, Judgement, World
Suit Names: no names on suit cards
Suits from instruction booklet: Wands, Chalices, Swords, Pentacles
Court Cards: no names on court cards
Names from instruction booklet: King, Queen, Knight, Knave
Links to Other Sites:
Review - Tarot Passages website
Review - Wicce website
SAMPLE CARD IMAGES: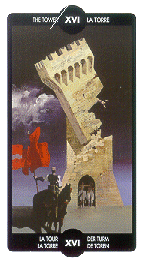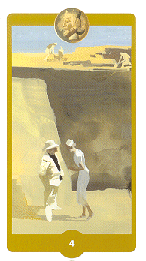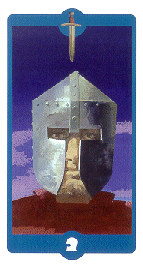 Note: The color for wands is identified as violet in the instruction booklet, but appears to be reddish-brown.
---