1JJ Swiss Tarot Cards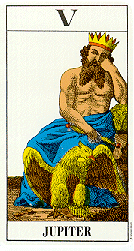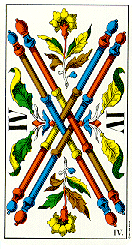 This version of the 1JJ Swiss Tarot deck is published by AGMuller in Switzerland and distributed by U. S. Games. Versions of the 1JJ Swiss have existed for over a century. One was created by Swiss cardmaker Johann Georg Rauch circa 1831-1838. In this deck there is a "JGR" on the four of coins. Another version was produced circa 1865 using Rauch's woodblocks, but the "JGR" has been removed. In both these cases, the titles are in French, but titles in the current deck are in English. The major arcana cards depict 19th century costumed figures. Card 2 is the Roman goddess Junon, and Card 5, the god Jupiter. The Two of Pentacles has the traditional ribbon showing the location of the manufacturer "Fabrique de Cartes a Schaffhouse."



Deck

Number of
Cards
Size
Copyright
Card Back Design
78

22 major
56 minor

2 3/8"
x
4 3/8"
1974

Order - Amazon
Language of Card Titles: English
Style of Suit Cards (2-10): suit tokens
Also Included: instruction booklet, 2 publisher cards
Major Arcana:
Fool, Magician, Junon, Empress, Emperor, Jupiter,
Lovers, Chariot, Strength (Card 11), Hermit, Wheel of Fortune,
Justice (Card 11), Hanged Man, Death, Temperance, Devil, Tower,
Star, Moon, Sun, Judgment, World
Suit Names: Wands, Cups, Swords, Pentacles
Court Cards: King, Queen, Knight, Page
Links to Other Sites:
Review - Wicce website (deck with French titles).
SAMPLE CARD IMAGES: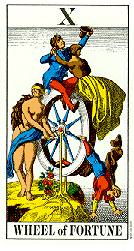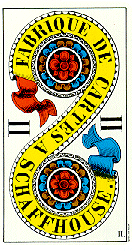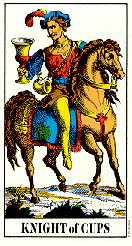 Reference - The Encyclopedia of Tarot: Volume 1 by Stuart Kaplan, pg. 270, The Encyclopedia of Tarot: Volume 2, pgs. 366-367.
---