Londa Tarot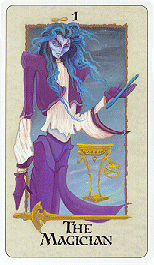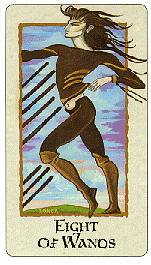 The Londa Tarot reflects the unique style of the poet and artist Londa, born in Marietta, Ohio on February 26, 1952. Her highly stylized characters strike dramatic poses designed to challenge and seduce. They appear to be on a stage drawing you into their world. The "Who Are You Really?" card can be added to the other cards of the deck to create interesting possibilities in readings. Londa's point of view is summed up in these lines from one of her poems in the instruction booklet:
My curiosity now, was leading me
to the lunatic fringe - where I like to be.
Number of Cards
Size
Copyright
Card Back Design
78
22 major/56 minor
2 5/8" x 4 5/8"
1993

Order - Amazon
Language of Card Titles: English
Style of Suit Cards (2-10):
Also Included: instruction booklet, introduction card, top cards with the quote "Who Are You Really?"
Major Arcana:
Fool, Magician, High Priestess, Empress, Emperor, Hierophant,
Lovers, Chariot, Strength (Card 11), Hermit, Wheel of Fortune,
Justice (Card 8), Hanged Man, Death, Temperance, Devil, Tower,
Star, Moon, Sun, Judgement, World
Suit Names: Wands, Cups, Swords, Pentacles
Court Cards: King, Queen, Knight, Page
Links to Other Sites:
Review - Wicce website
SAMPLE CARD IMAGES: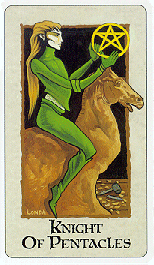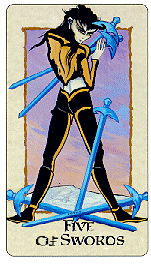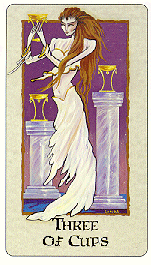 Based on the instruction booklet and U. S. Games Catalog #46.
---