Lovers Oracle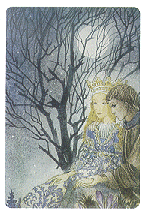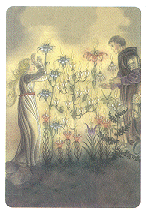 The Lovers Oracle was created from 40 paintings by Sulamith Wulfing. Wulfing was born in Germany in 1901 and had her first art exhibit at 22. She and her husband self-published many collections of her distinctive fantasy and fairy tale art over the course of her life. She died in 1988. This deck focuses on relationships, especially those between lovers. Most cards feature a couple in a tender moment of intimate sharing. The image is in color on one side, and again in a smaller, black-and-white version on the other side (see the sample back below). Underneath is an inspirational message about love. There is no instruction booklet for the Lovers Oracle. The cards are meant to be used for meditation and daily guidance. Wulfing is also the artist for the Fairy Oracle and Angel Oracle decks.

Number of Cards
Size
Copyright
Card Back Design
40
2 5/8" x 3 3/4"
2001

Order - Amazon
Language of Card Titles: English
Also Included: instruction card, relationships card
Cards: no card titles
Each card offers one or two sentences of inspiration and guidance, such as:
"Sometimes the one thing you are looking for is the one thing you cannot see."
"Love is perfect, even when we are not."
Suit Names: no suits
Court Cards: no court cards
Links to Other Sites:
Review - Wicce website
Wulfing Biography (Lightworks Visionary Art Gallery site)
Wulfing Biography (Bud Plant Illustrated Books site)
Bluestar Communications Website
SAMPLE CARD IMAGES: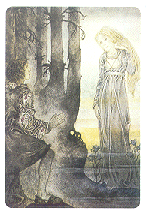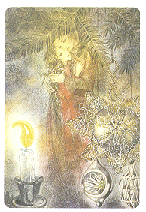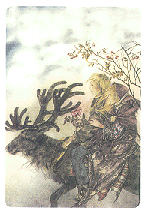 ---