Osho Transformation Tarot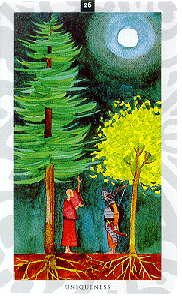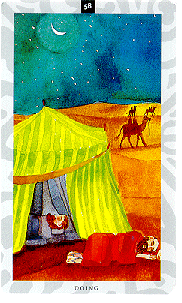 The Osho Transformation Tarot is different from the Osho Zen Tarot and is not a true tarot deck despite its name. This deck has 60 cards that show scenes from stories and parables of the world's wisdom traditions, particularly Zen, Sufism, and the teachings of Jesus and Buddha. Each card is numbered and has a key word or phrase at the bottom that describes the essence of that card's lesson. The book Osho Transformation Tarot by the Osho International Foundation is really a book of wisdom in its own right (144 pgs.). It gives the story behind each card and also insight and guidance about that story's theme. Osho was an Indian guru (1931-1990) and the teachings in this book reflect his philosophy of life.

Number of Cards
Size
Copyright
Back
Design
60
3 1/8" x 5 1/4"
1999

Order - Amazon
Language of Card Titles: English
Style of Suit Cards (2-10): Story Pictures
Also Included: instruction book
Cards:
No-Mind, Communion, Enlightenment, Sincerity, Ultimate Accident,
Greed, Beyond Greed, Disciplehood, The Greatest Miracle, Worth,
Recognition, Questioning, Dropping Knowledge, Authenticity, Alertness,
Imitation, A Cup of Tea, Meditation, Remaining Centered, Ego,
Conscience, The Foolish Heart, Prayer, Misuse of Power, Light on the Path,
Uniqueness, Blessings in Disguise, Self-Acceptance, Gratefulness,
That Which Never Dies, Detachment, Beyond the Small Family, Renewal,
Anger, Mastery of Moods, Gates of Hell, Gates of Heaven, Transmutation,
Energy, Wholeness, Failure, Worry, Wishful Thinking, Desire,
Living Totally, The Quest, Hope, Challenge, Love, Compassion,
Dropping the Past, Repentance, Play, Single-Pointedness, Sex,
The Devotion, Intelligence, Doing, The Journey, Laughter
Suit Names: No Suits
Court Cards: No Court Cards
Links to Other Sites:
Osho website
Review - Wicce website
SAMPLE CARD IMAGES: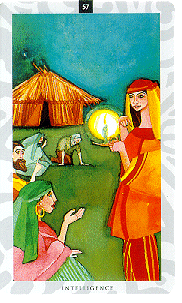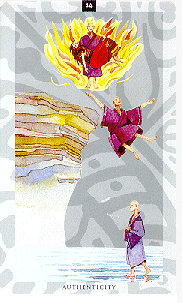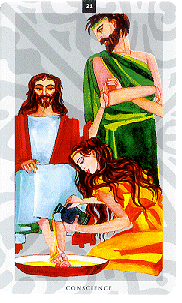 Text based on instruction book.
---